Yes, back in the north-east, so the blog continues! Apologies for not posting often, but I wasn't here in the north-east and I did not want to change the main theme of the blog! This time before heading to Itanagar and then on to my study site - Bomdo village, I am at the first stopover at Pakké Tiger Reserve where my colleague (Amruta Rane) and her team are doing the tiger census which is going on right now across the country. This is the best opportunity to get into a Tiger Reserve and that too on an on-the-house trip, well actually, on-the-Forest-Department trip! But firstly, about what happened before I got here.
Guwahati & the dust-bath
Guwahati, the main gateway to north-east is quite a town: crowded, tambul (betelnut) chewers and spitters everywhere and now multiplexes and big malls. Its like a small city mimicking a big one out here. Another annoying thing about the city is the dust-bath, smoke and dust everywhere, and if you are anywhere near Khanapara, if you ever are, cover your face with a kerchief! Its like you take in dust in your nostrils before you take the smell of a forest anywhere beyond Guwahati. In fact, the only good thing about the place is that bus fare from anywhere to anywhere ranges from 3 – 5 rupees, and its been that way for almost four years now.
Anyway, I spent three days at Guwahati before I got to Arunachal Pradesh, not by choice, as you will read. My good friend Narayan's family has adopted me over the last few years and treated me as one of the family and taken me in whether I am headed to Bangalore or whether I am headed to field like this time. There was even once a tiime when I had a rupee left when I got to Guwahati since I had expected a bank to be open at 5 pm, it wasn't. So with all my luggage, which usually exceeds 10 kilos, I walked, to be specific from Bangagarh to Khanapara, almost 8 km! But when I got to Krishna bhaiyya's place I was treated like I would be at home: a hot water bath and a super-sumptous meal. But coming back to the topic of why I had to spent three days in Guwahati, I needed to apply for an inner line permit (ILP) for entering Arunachal. When I was earlier working with G B Pant Institute at Itanagar, I had a 1-year, all-Arunachal ILP, but this time to get a 1 week ILP to a single destination (in this case, Seijosa, the entrance to Pakké Tiger Reserve), I had to wait two days! Felt a bit sick, but hey, here I am! The first day in Arunachal began at Pakké, which brings us to the hot topic of the blogpost.
A sort of field-coming
After many months down South, it feels great to be back in the beautiful forests here. I got to Seijosa and within half hour was to leave for the Panch-iali camp in Pakké, where one of the five roads that lead to nowhere leads to the camp! First glimpse of Arunachal after almost a year, beautiful! The great barbet call was on which usually provides the timely beat of the sounds of the forest, nice lowland forest right in front of me, Duabanga, Erythrina and Toko, the local palm used for thatching, were flowering and yes Pakké rocks, they really rock. Each is a different colour, shape and has a different texture.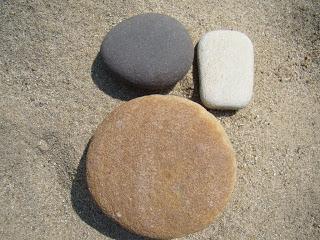 I call this one Roti, egg and butter!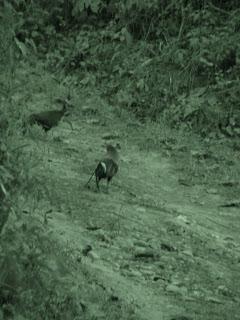 A khaleej and junglefowl
We also saw several Khaleej pheasants and red junglefowl and on one occassion even together, wonder what that was about.
Then we took on the survey, this usually involves looking for pugmarks around nallahs, or streams. The first day we saw pugmarks of two tigers, at least one leopard and some wild dogs too. The second day, today, was one of the most beautiful walks. Often, we saw the Oriental Pied and the Wreathed hornbills and very often we would hear them flying over the canopy with a muffled Chopper-like sound. In all, we saw about 5 Wreathed hornbills and 3 Oriental Pied ones, all in a couple of hours walk.
I also took a bath at a stream, with some Puntius and Leopard Loaches. A bath after three days, after a dust bath at Guwahati, awesome!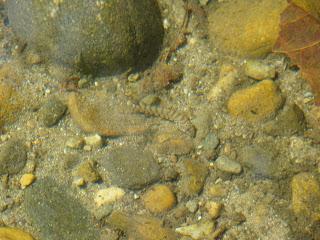 A leopard loach
Charan da the person driving us to Seijosa also told us something interesting. There was this mammal that used to defecate in the same place for the last few months, according to him a cat. I couldn't think of a cat that does that and then he even took us to the place. Here's is the picture of the scat.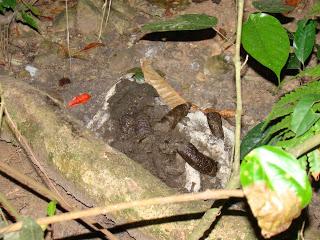 So Amruta and Charan decided that they can afford to leave a camera trap at the place and perhaps pick it up in a week. So we may get picture of this toilet-trained carnivore. I am really looking forward to what it might be, maybe I will write about it in a future blog post.
In all, truly, Pakké rocks!
PS: The cat stopped visiting its personal lavatory after they fixed the camera trap. Its most likely a civet, sorry for the loss of a loo!